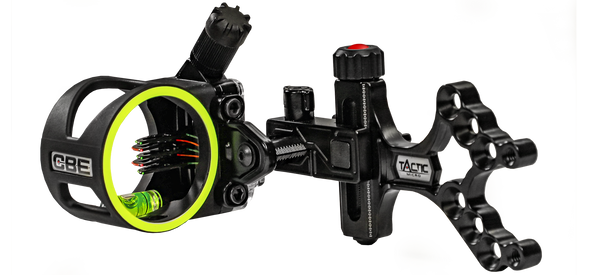 Smart mount multi-positioning
Elevation - micro elevation gang adjustment with visual laser engraved markings for precise adjustments
Windage - micro windage gang adjustment with visual laser engraved markings for precise adjustments
Available with a 5-pin housing thats laser engraved for adjustments
.019" Blade pins
Fluorescent peep alignment ring
Sight light included
Designed to flip for left handed archers
Product Weight: 8.1 ounces
Find the most up-to-date instructions for your new CBE Tactic Micro by clicking here.
Smart Mount – patented multi-position mounting holes give you a head start by allowing you to mount the sight in the optimal position to start with.
Armed Guard Fiber Management System protects the fibers every step of the way, from block to pin. And, there is now 12 inches of fiber for brighter pins!


| COMPARE HUNTING SIGHTS | TACTIC | TACTIC MICRO | ENGAGE HYBRID | ENGAGE MICRO |
| --- | --- | --- | --- | --- |
| Interchangeable laser engraved aluminum yardage scales | ✕ | ✕ | ✓ | ✕ |
| Rear-facing sight tape | ✕ | ✕ | ✓ | ✕ |
| Engraved elevation marks | ✓ | ✓ | ✕ | ✓ |
| Dovetail Mount | ✕ | ✕ | ✓ | ✓ |
| Smart Mount | ✓ | ✓ | ✕ | ✕ |
| Fully machined aluminum construction | ✕ | ✕ | ✕ | ✓ |
| Armed Guard Fiber Management System | ✓ | ✓ | ✓ | ✓ |
| Micro adjust windage unit with laser engraved markings | ✕ | ✓ | ✓ | ✓ |
| Ergonomic, oversized Rapid Drive knob for a sure, easy grip | ✕ | ✕ | ✓ | ✕ |
| Fully micro-adjustable - super precise to-the-yard adjustment | ✕ | ✕ | ✓ | ✕ |
| 3rd axis leveling | ✕ | ✕ | ✓ | ✓ |
| 2nd axis leveling | ✓ | ✓ | ✓ | ✓ |
| Tool-less adjustment | ✓ | ✓ | ✓ | ✓ |
| Enclosed rheostat light for adjustable pin brightness | ✕ | ✓ | ✓ | ✓ |
| Fine-point, stainless steel indicator needle | ✕ | ✕ | ✓ | ✕ |
| Standard pins available in .010 or .019 | .019 Only | .019 Only | ✓ | ✓ |
| Engage Micro Pin Adjustment | ✕ | ✕ | ✓ | ✓ |
| Blade Pins | ✓ | ✓ | ✓ | ✓ |
| Rhino Pins | ✕ | ✕ | ✕ | ✕ |