Elite Archery custom string Builder
Build your one of a kind custom bow strings for your Elite Archery bow.
Start Building
BUILD YOUR OWN ELITE ARCHERY BOW STRINGS
Discover the best strings for popular models of Elite bows. These compound bow cables will help your compound bows shoot better than ever! If you're shooting with worn-out strings, your craft is going to suffer. Replace old or fraying strings for improved accuracy. When you don't have to think about your bow strings, you can focus more on what matters — your target.
Winner's choice CUSTOM STRINGS ARE COMPATIBLE WITH THESE ELITE BOWS:
Era, Omnia, Envision, Terrain, Basin, Ember, Enkore, Remedy, Verdict, Result, and more!
WHY WINNER's CHOICE?
All string makers use the same core materials. At Winner's Choice, we've always been focused on crafting the perfect string. Everytime. Our unique processes ensure that every strand of every string is pre-stretched. This ensures that Winner's Choice are ready for action the moment you install it. You'll only need a few break-in shots to settle your new strings and cables.
Remember, Winner's don't settle. Ask for Winner's Choice at your local bow shop.
HOW YOUR CUSTOM STRINGS ARE MADE
WINNER'S CHOICE STRINGS AND CABLES ARE DESIGNED BY YOU,
AND MADE RIGHT HERE, IN THE U.S.A.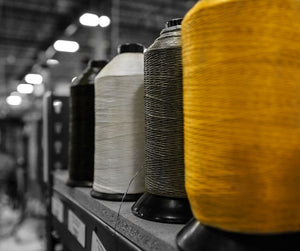 STEP 2: We instantly Receive your order, then build, and ship your strings
Constructed with the industry's best material, Winner's Choice Custom strings let you build a string that exceeds the demands of your bow's performance needs, with the colors, combos and flare to match your personality.
WHY WINNERS CHOOSE WINNERS CHOICE
Most of us know, all string makers start from the same place. We all use the same materials. Winner's Choice Custom Bowstrings developed our own special way of making strings. Our special recipe brings you the strength, durability, and dependability you need. Winners don't settle. Demand the Winner's Choice.
STRING PERFORMANCE GUARANTEE
We build a better bow string. We guarantee our strings against premature serving seperation, peep rotation, and string creep.
Zero Peep Rotation
Winner's Choice has developed a unique string-making process. We build our strings with more pre-stretch than any any other process on the market. No creep. No peep rotation.
WEATHER LOCK TECHNOLOGY
WeatherLock™ treatment on every string, minimizes string wear and fuzziness, and protects against heat and moisture. This is the ultimate treatment for your strings.
Ultimate String Loop
Available in a variety of colors to match your custom strings. The Ultimate String Loop eliminates serving wear and string twist. Available in 1.8mm or 2.0mm diameters
Elite Archery custom string Builder
Build your one of a kind custom bow strings for your Elite Archery bow.
Start Building